Introduction: What is Hyperlocal SEO Marketing?
The term "hyperlocal" is used to describe the type of SEO that caters to a very specific geographic area. It is an approach to search engine optimization that focuses on optimizing web pages for local search results. This can be anything from a block, to a city, to an entire country. It is the opposite of "global" SEO which targets people all over the world. Hyperlocal SEO Services are becoming more and more popular as businesses begin to use this strategy in order to gain visibility from people who live or are visiting close by. It's a way to target those who are looking for businesses in a specific area or we can say it is a way to target your marketing efforts to people who are looking near your business.
An example of hyperlocal SEO marketing would be the use of geo-targeting for Google Maps. Geo-targeting allows businesses to list their location and display their name and phone number when someone searches nearby. SEO has changed drastically as we can now target people by their postal code, intersection, or even radius from a map pinpoint. This means that businesses can now show up on Google Maps when someone searches for something near them. Additionally, the same businesses can rank higher than their competitors that might be further away geographically due to geo-targeting.
The Difference Between Local SEO and Hyperlocal SEO Marketing
Local SEO is a strategy that focuses on ranking your website in search engines based on your location whereas hyperlocal SEO marketing is a strategy that focuses on ranking your website in search engines based on the physical location of the searcher. In other words, Local SEO is the process of improving the ranking of a website on Google for search queries that are related to a specific geographic location whereas hyperlocal SEO marketing is a subset of local SEO, which focuses on improving the ranking of a website for search queries that are related to a very small geographic area.
Local SEO is a powerful marketing strategy that has been around for many years but hyperlocal marketing is the new game in the industry. Hyperlocal SEO helps to generate more local traffic to the website and can be implemented through various ways. The hyperlocal industry is growing and more and more businesses are turning to hyperlocal services. This is especially true as the number of people using smartphones is on a constant rise. Businesses can therefore better cater to these customers with  hyperlocal search engine optimization services.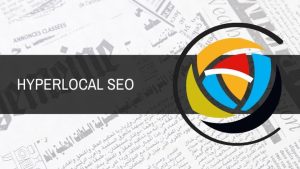 Different Strategies under Hyperlocal SEO Marketing
Hyperlocal marketing SEO is a powerful strategy to grow your business locally. It helps you rank for local keywords in Google search results.
There are many factors that affect the success of hyperlocal SEO marketing. Some of these factors are:
Keyword research
Content marketing
Local citations
Social media marketing
Reviews and testimonials
Local partnerships and events
One of the most important is keyword research. It's important to target the right keywords if you want your local business to thrive. Hyperlocal keyword research is the most crucial step so that your customers will find you.
Though finding the right keywords for a specific area can be challenging. To get you started, consider Google Autocomplete. To begin, open Google Chrome and enter a search query using the search bar. When you type in a keyword, you will see similar search terms to what you are typing. This is a helpful exercise as it shows what others are searching for. From this, create a list of the related terms and make full use of them.
Use the Hyperlocal keywords on Your Website
After finding the right keywords, start using them on the business's website. Include the hyper-local terms in the headings, titles, metadata, image alt text, text, and anywhere else Google crawls. This will boost up the business' rankings in SERPs.
Verify and Setup My Google Business Listings
Another beneficial strategy is to verify and set up My Google Business Listings. Google pulls a lot of the information it provides searchers from a business listing. If a business hasn't been verified or filled out everything on Google My Business, that business is missing out. Now is the time to fill out everything on the listing to ensure that businesses have the best chance possible of showing up in Google Search results locally.
Why chose ThinkTech for Hyperlocal Marketing SEO
If you're looking for an experienced hyperlocal SEO company in Calgary, then look no further than ThinkTech. ThinkTech is one of the leading Online Marketing companies based in Calgary. We provide our clients with high-quality SEO, hyperlocal SEO services, digital marketing, website maintenance, etc. that will help them rank higher on Google and other search engines. We can help you optimize your website, create effective hyperlocal content for specific local areas in and around Calgary that will help boost up your rankings in the SERPs.
We do not compromise when it comes to maintaining high SEO standards. Our hyperlocal SEO marketing experts keep themselves updated with search engine algorithms and a lot of other miscellaneous updates happening within the search engine platforms. We strive to help our clients reach the top of SERPs and help them grow their business.