The demand and usage of e-commerce have skyrocketed in recent years and will continue to do so. People want to interact and engage with companies on their own terms, and they want to do so through unique and efficient online experiences. 
Businesses need to modify their online presence to be more visible and available to their customers in order to stay relevant and ahead of the competition. Putting emphasis on SEO services for your business website is the key approach to go about it. 
You might be wondering what is the true worth of SEO and what is the significance of its services. Let us take a look at what it can accomplish for your business and how it can become one of the most effective marketing techniques. 
What is SEO? 
Search Engine Optimization (SEO) is the process of enhancing the quantity and quality of traffic to your website through natural search engine results. When someone searches for a keyword in your industry, a higher ranking boosts your brand's online presence. As a result, you will have more chances to turn potential leads into customers. When done effectively, SEO can help your business stand out as a reliable source of information and improve the customer experience with your brand and website. 
The essence of successful SEO is anticipating customer intent, analyzing what type of content they'd like to see, and offering the best solutions. It serves as both a customer research tool and a sales channel for your business, allowing you to learn more about your customers and their behaviors.
If you're a small business owner, SEO services can help you get new customers and take your business to the next level by helping you develop a strong online presence and surpassing your competitors. 
5 Benefits of SEO for Small Businesses
One of the key advantages of SEO & Online Internet Marketing Services is that it's something that every business can utilize, and it's far more accessible than you might think. Rather than spending money on traditional print advertisements or sponsored ads, investing time and effort into learning the basics of SEO and even purchasing a few tools might result in higher long-term value for your business. Here are the five key benefits of SEO for small businesses: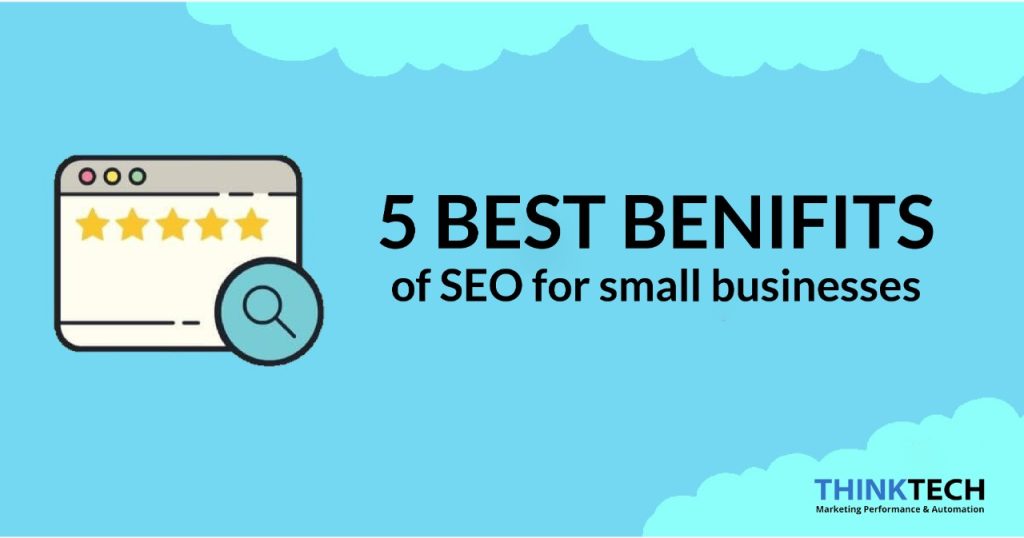 1. Assist you in creating and developing a more user-friendly website
Using  SEO services will help small businesses create a better, faster, and friendlier website for users. Although most people still stick to the old concept of SEO, believing it to be solely about optimizing for search engines, however, SEO is now about improving user experience. 
Websites that are well-structured, clean, and uncluttered encourage users to stay longer which as a result lowers bounce rates and increases page views. Similarly, highly relevant content keeps your readers interested because it helps them locate exactly what they're looking for on your site by answering their queries and resolving their issues. 
Small businesses have a better chance of ranking higher using local SEO services, keeping visitors on your site longer, and converting if you put your customers' needs first. The more frequently this happens, the more authoritative your site will become and the more visitors you'll attract.
       2. Help your business find new customers
One of the main reasons you have a website, after all, is to differentiate yourself from the competition and grow your customer base. Businesses with an SEO-optimized website bring in twice as many customers and expand twice as quickly as those without one.
SEO is undoubtedly the most effective and affordable marketing strategy available today. Moreover, it will only attract customers who are actively searching for your product or service. Utilizing SEO services will help bring local and targeted traffic to your website and eventually more customers to your business than any other marketing strategy
SEO will assist you in achieving higher rankings in search engine result pages, which will result in more targeted traffic and, in turn, more customers
        3. Enhance your conversion rate  
Local SEO is critical for ensuring that your target audience can find your business quickly and easily, putting them one step closer to completing the sale funnel and making a purchase. 
SEO-optimized websites load faster, are easier to explore and navigate, and work on almost all devices, including mobile and tablets. Such websites are more likely to capture and hold the attention of your readers or visitors, which means they're more likely to become devoted visitors, subscribers, and regular customers. 
People who are interested in what your business has to offer will visit your website, resulting in organic traffic. They are actively looking for something that is important to them, thus the odds of conversion are higher than they would be in the case of generic traffic 
       4. Build brand awareness of your business
Building brand awareness is one of the advantages of getting higher rankings on SERPs (Search Engine Result Pages). When your sites appear on the top page of major search engines such as Google, Yahoo, and Bing, your potential customers are more likely to trust your brand over other brands that don't have a strong online presence.
It is important to rank higher if you're competing with other businesses for specific search terms. You want to be the first thought of customers when they ask questions or directly search for the product or service you provide. 
That is why small businesses that want to improve their brand exposure should engage in SEO and begin gaining top rankings for the key terms that are relevant to their industry. 
    5. It is cost-effective and can be done on a budget
One of the most appealing aspects of SEO is that it is quite affordable to adopt. Small businesses usually have a tight budget, therefore they can't afford to spend a lot of money on marketing. A small business can use SEO strategies to achieve the same results without having to spend a fortune on advertising. 
Developing and implementing an SEO plan costs money, but the investment is usually worth it. Consider SEO as a meaningful investment in your business, rather than a marketing expense. 
With the correct strategy in place, SEO can help your business grow by increasing your profits within the first year. The more time, money, and effort you put into SEO for your business, the better and longer you'll see results for your website and overall business. 
Investing in SEO services is not only vital for online businesses, but it is also a necessary investment for all businesses. 
Having a well-optimized website is a must for any business as there are endless possibilities for expansion and growth. Any money spent on SEO should be viewed as an investment rather than an expense.