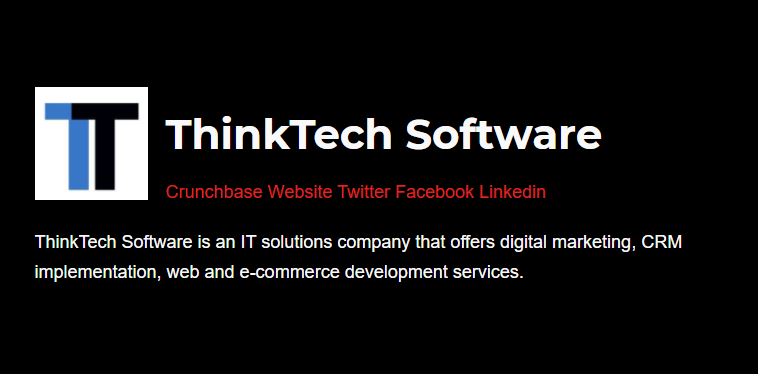 We are thrilled to announce we have been featured in the Best Startup Canada Magazine as one of the best Internet Marketing or Digital Marketing companies across Western Canada.
Look here :- https://beststartup.ca/101-top-marketing-startups-and-companies-in-calgary-2021/
ThinkTech Software Inc is an Online Internet Marketing Company based in Calgary, Alberta, Canada. It specializes in SEO, digital marketing, web development/maintenance, and CRM Implementation services. ThinkTech is one of the leading SEO Services companies in Calgary and Edmonton and taking over other areas as well. ThinkTech has a customer base of 200+ clients with an experienced full-service team of over 500 project deliveries. ThinkTech caters to the small to medium manufacturing industries, healthcare, retail, accounting & financial organizations, education sector, eCommerce platforms, hospitality, restaurants, and more.
"ThinkTech" was selected due to exceptional performance in the following categories:
Best SEO
Innovative Campaigns
Innovative route to market
Purely Organic Strategies
Top Rankings & Brand Growth
Continous and exceptional growth
Top Rankings in SERPs
Excellent growth strategy
Top-Notch Management
Executive Reporting
We can also take care of your small to medium-sized businesses in terms of CRM as well. We are a certified Hubspot partner and have ample expertise in CRM implementations. So if you want to set up a new CRM or migrate from some older to a new one, we're more than happy to help.
About the Best Startup Canada Award:
About the Best Startup Canada Award:
Annually, Best Startup Canada awards the most successful startups in Canada, with its lists featuring companies who are pushing the limits of innovation to solve critical problems and challenges. Best Startup Canada aims to accelerate the growth of the foremost Canadian-based companies, businesses, and innovations by promoting them to a global audience. This year "ThinkTech Software Inc." makes this list for their exploits in the "Internet Marketing/SEO/Digital Marketing" industry.
Pleased and humbled by this latest recognition "ThinkTech Software Inc." is ready and eager to deliver to the Canadian market and global stage.
Read the full article here: "Link to the article you're featured in"
About "ThinkTech Software Inc."
If you're looking for the best SEO services, digital marketing, web design/maintenance, CRM Implementation services, ThinkTech should be the agency you should trust. Being the leading SEO and digital marketing company in Western Canada, ThinkTech keeps itself updated with all the latest market trends and updates happening within search engine giants.
Give us a call to schedule a demo with our Marketing Experts.
About BestStartup.Ca
Best Startup Canada is an online publication that helps promote Canadian businesses and put them on the international stage. They primarily focus on businesses that show positive signs of growth, innovation, management, and excel in areas that have a beneficial impact on society.